Post 7628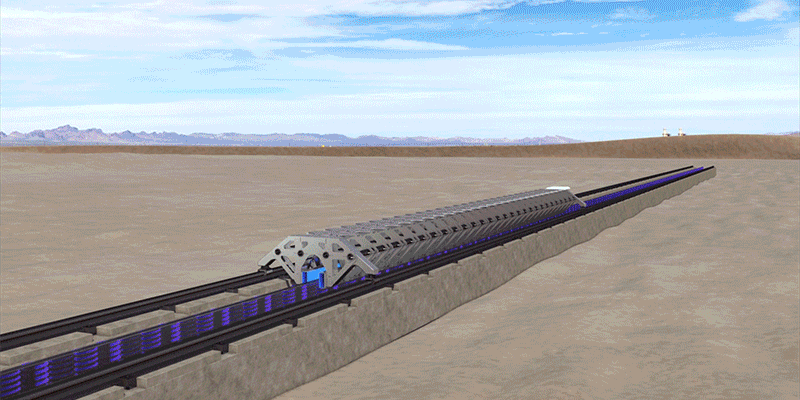 Wednesday morning, in the Nevada desert, one of the companies working to develop a hyperloop will deliver a proof of concept—the first full-scale demonstration of the transportation technology that will be able to travel at speeds over 300 mph in an open-air environment, potentially changing the future of transit along the way.
What engineers are calling a "propulsion open-air test" (POAT) will be the first public peek at the electromagnetic propulsion system developed by Hyperloop One, formerly Hyperloop Technologies, which released this animation today. The company's name change, also announced today, will differentiate the two-year-old startup from its competitor Hyperloop Transportation Technologies (HTT). On Monday, HTT made its own announcement that it had licensed a different propulsion technology using passive magnetic levitation.
http://gizmodo.com/ajax/inset/iframe?id=jwplayer-video-
"We've tested levitation technologies, we've tested the aerodynamics in those low-pressure environments, we've tested the tube," said CEO Rob Lloyd, when I met him at Hyperloop One's headquarters in downtown Los Angeles, where about 160 employees are working on the project. "So we've done testing of all the systems but only can demonstrate this if we build it at full-scale." At the end of last year, Hyperloop One acquired the land in Nevada to start building a complete prototype, which Lloyd estimates will be ready by the end of 2016. The pods should be able to reach speeds over 700 mph once installed in the low-pressure tubes.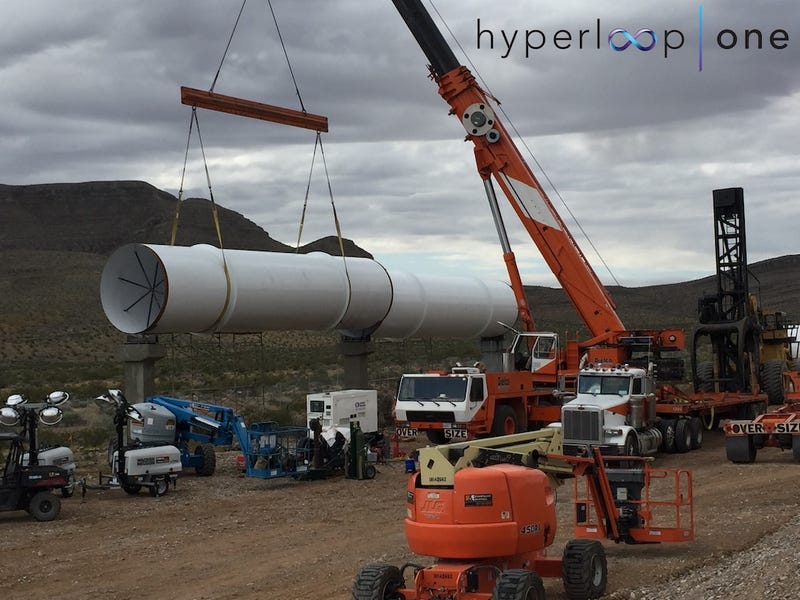 Although Hyperloop One could not comment on announcements by its competitors, I did ask Josh Giegel, senior vice president of engineering, to explain the difference between passive magnetic levitation and Hyperloop One's propulsion technology. He could not go into detail about what technology will be used on tomorrow's test, only confirming that it uses electromagnetic energy. But Giegel also said that Hyperloop One is not tied to any specific technology. "We believe strongly in testing design as quickly as we can to release the product, get feedback, and make upgrades," he said. "We feel the propulsion technology that we are demonstrating right now is an extremely novel way of doing this."
http://gizmodo.com/ajax/inset/iframe?id=vimeo-165385309&start=0
Beyond the propulsion tech demo, Hyperloop One also announced a long list of new partners today, most notably the addition of Danish architect Bjarke Ingels and his firm BIG. Ingels, who is known for his ambitious public infrastructure projects, will give some much-needed design direction for how Hyperloop One's projects might start to integrate with the cities they're meant to serve. "With hyperloop we are not only designing a futuristic station or a very fast train, we are dealing with an entirely novel technology with the potential to completely transform how our existing cities will grow and evolve, and how new cities will be conceived and constructed," Ingels said in a statement.
Also partnering with Hyperloop One are engineering firms AECOM and Arup, as well as transportation and tunneling partners from Amberg Group (Switzerland), Deutsche Bahn (Germany), and Systra (France). This group of international consultants alludes to the fact that the first hyperloop will likely not be built in the US, but in a country with fewer regulatory restrictions. Among Hyperloop One's investors are France's railway system SNCF, which is eyeing hyperloop as a potential replacement for high-speed rail, according toseveral European publications. Earlier this year, Hyperloop One's competitor HTT announced a plan to bring a hyperloop system to Slovakia, but the company still has yet to build a planned five-mile test track in Northern California.
While the original hyperloop concept was proposed by Elon Musk way back in 2013 as a way to move humans in a manner that might replace flying, Hyperloop One is focusing its efforts on a cargo transport system first, which many people—including myself—have said is a better use of the technology. Lloyd said he hopes to discover these potential case studies with a new call-for-proposals soliciting concepts for how hyperloop could benefit cities. A few of the feasibility studies already underway include a better infrastructural connection between Stockholm and Helsinki, the efficient movement of shipping containers through the Port of Los Angeles, and a tunnel-based cargo transport system for Switzerland.
http://gizmodo.com/ajax/inset/iframe?id=jwplayer-video-
What Lloyd and Geigel both referred to as the startup's "Kitty Hawk moment," alluding to the Wright Brothers' famous first flight, will happen later this year when the full-size hyperloop prototype is ready. But tomorrow, there will be an important first step: the POAT. We'll provide video of the test when it happens.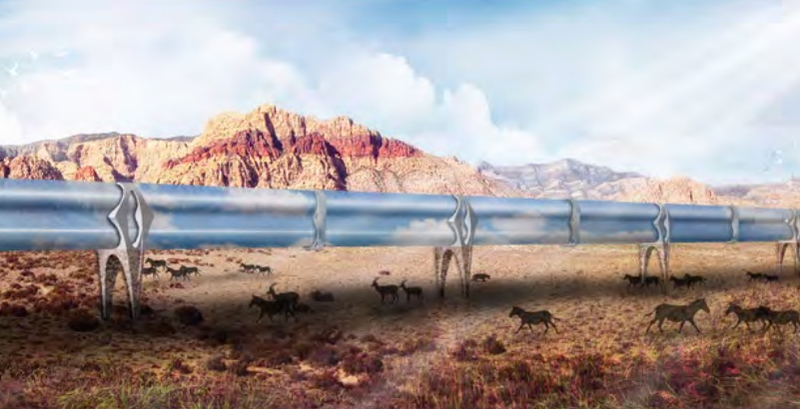 The Hyperloop may prove to be a wondrous and radical technology that will change everything we know about travel. But there are several major challenges it needs to overcome, and those challenges suggest that Hyperloop might be better suited for transporting goods—not people.
Speaking at the Los Angeles Times transportation event The Road Ahead on Monday, Rob Lloyd, the CEO of Hyperloop Technologies—one of the three startups pursuing the idea—gave updates on the company's progress, including that its Hyperloop test track would be completed in Las Vegas by the end of 2016. This is the real-world application that the project desperately needs to be embraced by the mainstream—a full-scale demonstration of the technology which might prove to critics that pneumatic tube transit is the future.
http://gizmodo.com/ajax/inset/iframe?id=youtube-video-WIxoZhcGw7c&start=0
A promo video for Hyperloop Technologies, located in downtown LA
But is it? Lloyd said a few things that made me think Hyperloop—the first section of which is currently being designed to shuttle humans from Los Angeles to San Francisco in about an hour—would be better suited for moving inanimate objects throughout California. Especially since we already have asolid high-speed rail plan underway that's traveling almost the same route.
"Goods movement"—the process of moving all our stuff around the world—is one of our biggest contemporary transportation crises. No matter what part of the process, at any scale, from global shipping to local deliveries, the amount of energy we use (and resulting carbon emissions we produce) is growing at an astounding rate. We moved 10 billion tons of stuff around in 2014; in 2000 it was a third of that. Planes, cargo ships, tractor-trailers—they all suck when it comes to moving our stuff around.
In many ways, the Hyperloop sounds perfectly suited for goods movement. A Hyperloop car (pod? loop?) is the about the size of a shipping container, being pushed through a similarly-sized tube. Hyperloop is meant to be a low-emissions transit solution (at least lower-emissions than flying). It's fast—traveling up to 800 miles per hour, which might even be too fast for human passengers. And since it's being planned to start in LA, that gives it great proximity to the biggest port in the US, which is struggling with how to distribute its cargo throughout the country in a sustainable way.
But as we know, the biggest problem right now with Hyperloop (and similarly with high-speed rail) isn't really the technology, but the alignment: deciding on the best route for the train to take, and securing those right-of-ways with property owners. This is why California's high-speed rail (HSR) construction is starting in Northern California instead of the LA area. And why Hyperloop is going to have a really hard time getting permission to build a never-before-seen transportation system in the same places that tried-and-true HSR has been attempted for decades.
Lloyd seemed to think that getting the right-of-ways wouldn't be a problem, since Hyperloop has a smaller footprint and less of an impact on the natural environment. Perhaps. But one of the perks of asking the cities along the high-speed rail route for permission is that they might get an HSR station as part of the deal. The benefits are inherent. But Hyperloop will not stop between LA and SF. So imagine getting those dozen middle-sized cities between LA and SF to allow a tube to snake through their backyards without being able to access it. They're not gonna approve a Hyperloop.
And then there's the actual passenger experience. If the goal is to wean people off flying—to have a more pleasant travel experience without the TSA and long waiting times—any new transit system needs to be faster than a plane. High-speed rail is too slow due to all the stops, Lloyd said at Monday's event, and people will never ride the train because of that. (This did not please the high-speed rail advocates in the room. At one point, Lloyd was getting heckled by a few of them.)
But this is also where the idea of transporting goods instead of people makes sense. If the urgency of getting people from LA to SF in under an hour was not as important, Hyperloop could stop along the way. What if the tube somehow brought down the price of products that otherwise had to be flown or trucked people's homes? And lowered the number of trucks that came ratting through their cities? The cities of the Central Valley would be much more likely to approve something like this.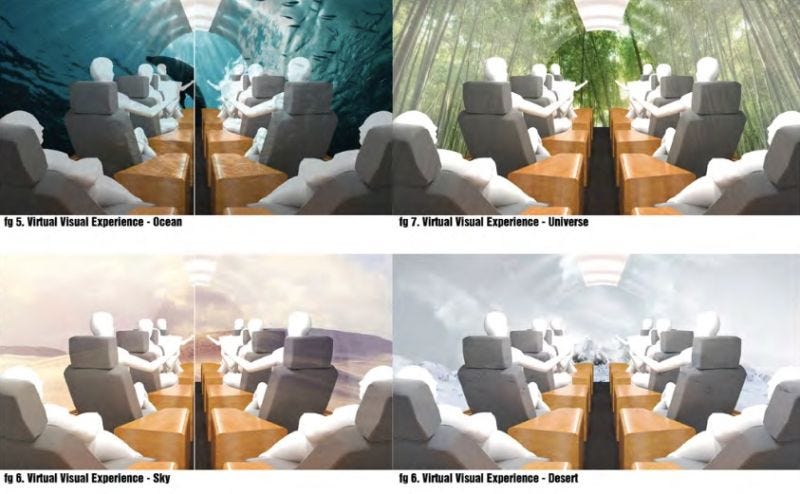 But that's the other critical difference between the Hyperloop and the train. An estimated 2.5 hours from LA to SF on HSR is still faster than flying (if you factor in the airport) but there's something to be said about the experience of riding an actual above-ground train and watching the scenery go by. Hyperloop might offer a cushy seat and VR entertainment, but for the most part it's a small pod in a dark tunnel going really, really fast. So fast it might make me feel uncomfortable. So I'd be stuck in a stuffy, vomit-inducing cylinder with no way to get off? Appealing.
In fact, Hyperloop Technologies is already thinking about goods as kind of a secondary gig after transporting humans. The company has proposed a "dry port" for the state that would rival the Port of LA in size and could be located anywhere in California—maybe even halfway between LA and SF. The idea here is that the technology would make it so easy to ship anything throughout California—and eventually the country—that the dry port would become a major manufacturing and distribution center in itself. Kind of like Memphis thanks to the presence of FedEx.
If that dry port was located halfway between SF and LA, that'd put it right around Fresno, the heart of the state's agricultural industry. Hyperloop would create a vastly more sustainable way to transport most of the food that feeds the US (and beyond), and it would dramatically improve daily life for the communities that grow it. In addition to water scarcity problems, the Central Valley has some of the most polluted air in the country, partially due to the trucks which travel up and down the 5 Freeway.
When it comes to tapping the Hyperloop's potential, I think it can help solve a major transportation conundrum. But I think we should let our stuff get sucked and blown through giant tubes. Let's build a high-speed rail for the humans.