Hell ship & Bataan Death March
Hell Ship
From Wikipedia, the free encyclopedia, and others
The Oryoku Maru
A hell ship is a ship with extremely unpleasant living conditions or with a reputation for cruelty among the crew. It now generally refers to the ships used by the Imperial Japanese Navy to transport Allied prisoners of war (POWs) out of the Philippines, Hong Kong and Singapore during World War II. The POWs were taken to Japan, Taiwan, Manchuria, or Korea to be used as forced labor. In Japanese, they are known as jigoku-sen (地獄船?), with the same literal meaning.
The term was coined much earlier, and was also used for German prisoner of war transports. When the Royal Navy's destroyer HMS Cossack had boarded the German tanker Altmark in a Norwegian fjord on 16 February 1940 (in what later became known as the Altmark Incident), and released some 300 British merchant sailors that had been picked up from ships sunk by the pocket battleship Admiral Graf Spee, Altmark was in the British newspapers frequently called "Hitler's hell-ship" or the "Nazi hell-ship".
As Allied forces closed in, the Japanese began transferring POWs by sea. Similar to conditions on the Bataan Death March, prisoners were often crammed into cargo holds with little air, food or water for journeys that would last weeks. Many died due to asphyxia, starvation or dysentery. Some POWs in the heat, humidity, lack of oxygen, food, and water became delirious and unresponsive to their environment. Unlike weapons transports which were sometimes marked as Red Cross ships, these prisoner transports were unmarked and were targeted by Allied submarines and aircraft.
The name of hell ship Oryoku Maru collectively covers the seven-week voyages and fate of Allied POWs held in the Philippines, who survived the sinking of that ship in Subic Bay in December 1944, and the bombing of a second ship the Enoura Maru, in the harbor of Takao, January 1945, and the Brazil Maruwhich transported the last surviving Allied POWs to Moji, Japan. There the Japanese medics are said to have been shocked at the wasted condition of the POWs and used triage to divide them. The 110 most severe cases were taken to a primitive military hospital in Kokura where 73 died within a month. Four other groups were sent to Fukuoka POW camps 1, 3, 4, and 17. Of 549 men alive when the ship docked, only 372 survived the war. Some eventually went to a POW camp in Jinsen (Inchon), Korea, where they were given light duty, mainly sewing garments for the Japanese Army.
The Oryoku Maru was a 7,363-ton passenger cargo liner that the Japanese used to try to transport 1,620 survivors of the Bataan Death March, Corregidorand other battle sites. It left Manila on 13 December 1944, and over the next two days was mistakenly bombed and strafed by American planes. About 270 died aboard ship, from suffocation or dehydration or were killed in the attack or from drowning while escaping the sinking ship. A colonel, in his official report, wrote:
Many men lost their minds and crawled about in the absolute darkness armed with knives, attempting to kill people in order to drink their blood or armed with canteens filled with urine and swinging them in the dark. The hold was so crowded and everyone so interlocked with one another that the only movement possible was over the heads and bodies of others.
The Junyō Maru was the worst of these, where 5,640 out of 6,520 POWs died after being sunk.
Another was unwittingly torpedoed by a US submarine, who later realised the ship contained Allied POWs. Footage of some of the survivors subsequently being picked up by the submarine is available here.
Tango Maru.
In February of 1943, the 6,200 ton cargo vessel, Tango Maru, crammed with 3,500 Javanese labourers and some hundreds of Allied POW's, was plying between Java and Ambon. US Submarine Rasher, using 3 torpedoes sunk this ship, and only about 500 native people survived.
USS Paddle sank the Shinyo Maru in September of 1944. Only 83 American POW's from 750 survived.
Shinyo Maru.
On the 7th. of September 1944, the US Submarine Paddle, lined up this 5,065 ton transport Shinyo Maru, slipped torpedoes into her, and down she quickly went. From 750 American POW's on board but 83 lived to come home again.
Memorial Plaque dedicated to the 83 American survivors
from the sinking of Shinyo Maru by USS Paddle.
Rakuyo Maru.
The US Submarine Sealion11, with 2 torpedoes soon disposed of the 9,418 tonRakyo Maru, she was on her way to Japan from Singapore, carrying 1,318 British and Australian POW's, they were being moved to slave in the coal mines of Japan. 1,023 died, some of them chopped up by the propellors of the Japanese warship escorts as they sought to find the submarine responsible for sinking this transport.
Junyo Maru.
The 5,065 ton Japanese freighter Junyo Maru, loaded to her plimsol line with 5,620 Javanese conscripts was nailed by the British Submarine Tradewind on the 17th. of September 1944. Only 900 came out of this sinking alive. This tragedy was the largest single loss of life of any of the Hell Ship sinkings. Both HM Submarine Tradewind, and her Captain survived WW2, the submarine continued to serve in the Royal Navy until going into the Reserve Fleet at Portsmouth in 1953, she was scrapped two years later.
HM Submarine Tradewind.
Conclusion.
This has only scraped the surface of the Hell Ships story, and blame could hardly be laid at the door of Allied Submarine Captains, who were not to know the cargo carried in these ships. It was rather that the Japanese authorities were culpable in not marking their ships with the safety of a Red Cross to indicate that POW's were on board.
Thousands perished, when lives may well have been spared if appropriate markings were placed on these dreadful ships, although the German U-Boats did not spare many British Hospital ships so marked in wartime.
Bataan Death March
Dead soldiers on the Bataan Death March
The Bataan Death March (also known as The Death March of Bataan) took place in the Philippines in 1942 and was later accounted as a Japanese war crime. The 60 mi (97 km) march occurred after the three-month Battle of Bataan, part of the Battle of the Philippines (1941–42), during World War II. In Japanese, it is known as Batān Shi no Kōshin (バターン死の行進?), with the same meaning.
Captured Japanese photo of victorious Japanese troops celebrating their victory on Bataan. American forces on Bataan surrendered 9 April 1942.
The "march", or forcible transfer of 75,000 American and Filipino prisoners of war, was characterized by wide-ranging physical abuse and murder, and resulted in very high fatalities inflicted upon prisoners and civilians alike by the armed forces of the Empire of Japan.
Route of the death march. Section from San Fernando to Capas was by rail.

The treatment of the American prisoners was characterized by its dehumanization, as the Imperial soldiery "felt they were dealing with subhumans and animals. Trucks were known to drive over those who fell or succumbed to fatigue, and "cleanup crews" put to death those too weak to continue. Marchers were harassed with random bayonet stabs and beatings.
Captured Japanese photo shows American prisoners using improvised litters to carry comrades who fell along the road from the lack of food or water. This is one of the few photos of the actual Bataan Death March, from the National Archives. Dated May 1942.

Accounts of being forcibly marched for five to six days with no food and a single sip of water are in postwar archives including filmed reports
The exact death count is impossible to determine, but some historians have placed the minimum death toll between 6,000 and 11,000 men; other postwar Allied reports have tabulated that only 54,000 of the 72,000 prisoners reached their destination — taken together, the figures document a rate of death from one in four up to two in seven of those on the death march. The number of deaths that took place in the internment camps from the delayed effects of the march is considerably more.
On May 30, 2009, at the 64th and final reunion of Bataan Death March survivors in San Antonio, Texas, the Japanese ambassador to the United States apologized to an assembly of survivors for Imperial Japan's treatment of Allied prisoners of war, on behalf of the Japanese government.
The Death March
Prisoners on the march from Bataan to the prison camp, May 1942. (National Archives).
U. S. Army personnel toiled to identify the charred remains of Americans captured at Bataan and burned alive on Palawan. 20 March 1945
At dawn on April 9th, and against the orders of Generals Douglas MacArthur and Jonathan Wainwright, Major General Edward P. King, Jr., commanding Luzon Force, Bataan, Philippine Islands, surrendered more than 75,000 (67,000 Filipinos, 1,000 Chinese Filipinos, and 11,796 Americans) starving and disease-ridden men. He inquired of Colonel Motoo Nakayama, the Japanese colonel to whom he tendered his pistol in lieu of his lost sword, whether the Americans and Filipinos would be well treated. The Japanese aide-de-camp replied: "We are not barbarians."
The majority of the prisoners of war were immediately robbed of their keepsakes and belongings  and subsequently forced to endure a 61 mi (98 km) march in deep dust, over vehicle-broken macadam roads, and crammed into rail cars to captivity at Camp O'Donnell. The Japanese informed them that it was no more than a two-day march for (healthy) Japanese soldiers. Thousands died en route from disease, starvation, dehydration, heat prostration, untreated wounds, and wanton execution.
Those few who were lucky enough to travel to San Fernando on trucks still had to endure more than 25 mi (40 km) of marching. Prisoners were beaten randomly, and were often denied food and water. Those who fell behind were usually executed or left to die. Witnesses say those who broke rank for a drink of water were executed, some even decapitated. Subsequently, the sides of the roads became littered with dead bodies and those begging for help.
On the Bataan Death March, approximately 64,000 of the 75,000 prisoners reached their destination. The death toll of the march is difficult to assess as thousands of captives were able to escape from their guards. All told, approximately 5,000–10,000 Filipino and 600–650 American prisoners of war died before they could reach Camp O'Donnell.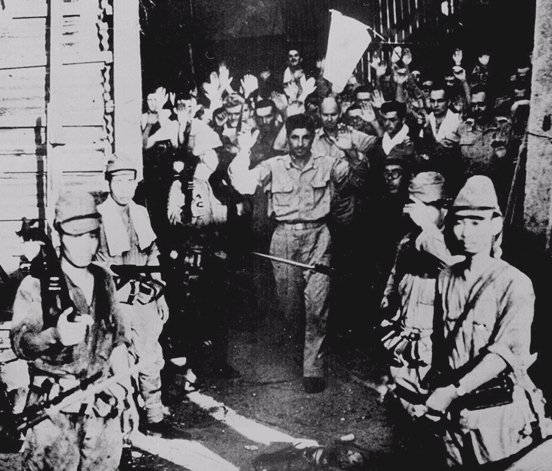 Harrodsburg, Kentucky was the city with the most members in the Death March, at 66. These men are known as the Harrodsburg Tankers.
The Japanese plan for P.O.W. transportation
The original plan for prisoner transport was submitted by the Japanese Imperial Army 10 days in advance of the operation. The plan anticipated only 25000 prisoners, and preparations were made only for that amount. The prisoners carried one day's worth of food, and this was seen as enough for the move to Balanga. All prisoners were intended to be transported by trucks, but most of the trucks were out of service, and the captured trucks had to be used to transport materials for the Siege of Corregidor. In the end, the prisoners had to march the 88 Kilometers by foot. Though there were medical depots, many of the prisoners developed tropical diseases, accounting for most of the deaths.
Original Prisoner Transport Plan

| Section | Distance | Note |
| --- | --- | --- |
| 1.Mariveles~Balanga | 30km | |
| 2.Balanga~San Fernando | 53km | Transport by 200 Trucks |
| 3.San Fernando~Capas | 48km | Transport by rail |
| 4.Capas~Camp O'Donnell | 12km | |
As shown on this diagram, the prisoners were only supposed to walk on Sections 1 and 4, and Field Hospitals were set up in Balanga and San Fernando. There were also resting places and medical tents every few Kilometers, but the number of Prisoners overwhelmed the Japanese Army and the plan went haywire.
Propaganda
In an attempt to counter the propaganda value of the march, the Japanese had The Manila Times claim that the prisoners were treated humanely and their death rate had to be attributed to the intransigance of the American commanders who did not surrender until their men were on the verge of death.
This did not prevent the Americans from making use of it with other atrocities to arouse fury in the United States.
War crimes trial
After the surrender of Japan in 1945, an Allied commission convicted Masaharu Homma of war crimes, including the atrocities of the death march out of Bataan, and the following atrocities at Camp O'Donnell and Cabanatuan. The general, who had been absorbed in his efforts to capture Corregidor after the fall of Bataan, claimed in his defense that he remained ignorant of the high death toll of the death march until two months after the event. He was executed on April 3, 1946 outside Manila. For unknown reasons, the Allies did not attempt to prosecute Masanobu Tsuji for war crimes. Also in Japan, Generals Hideki Tōjō (later Prime Minister), Kenji Doihara, Seishirō Itagaki, Heitarō Kimura, Iwane Matsui and Akira Muto, and Baron Kōki Hirota were found guilty in responsible to the brutal maltreatment of American and Filipino POW's, and were executed by hanging at Sugamo Prison in Ikebukuro on December 23, 1948. Several others were sentenced to imprisonment of between 7, 20 and 22 years.
Commemorations
The Philippines
Every year on April 9, the captured soldiers are honored on Araw ng Kagitingan ("Day of Valour"), also known as the "Bataan Day", which is a national holiday in the Philippines. During the 1980–1990s, the Boy Scouts of America Philippine troop would reenact this march every two years along a portion of the initial route in Bataan taken by the soldiers. The march was about 10 km (6.2 mi) in length.
Honolulu, Hawaii, USA
The Sacrifices of the Fall of Bataan and Corregidor are commemorated at the National Memorial Cemetery of the Pacific at Punchbowl, Honolulu, Hawaii every year. On April 9, 2009, Philippines Secretary of National Defense, Hon. Gilberto C. Teodoro gave the "Araw ng Kagitingan Address" (Day of Valor Address) and led in a wreath laying ceremony, attended by US Senators Daniel Inouye and Daniel Akaka, Filipino World War II veterans, Hawaii government officials, members of the Consular Corps, the U.S. Pacific Command and the Filipino-American community in Honolulu. The Philippine Consul General in Honolulu, Hon. Ariel Y. Abadilla, organized the ceremony.
6 Responses to "Hell ship & Bataan Death March"
My uncle, Robert Francis Mc Cormick survived the Death March of Batan, only to be killed by allies while being transported on a Japanese POW ship in the Phillipinnes. This is the only information I have of him. If you have any info I would appreciate it. The following is the only info I have.

SERVICE #
16034432

NAME
MC CORMICK ROBERT F

SERVICE CODE
ARMY

AREA
Southwest Pacific Theatre: Phillippine Islands

STATUS
Executed, Died in Ship's Sinking or Result of ship sinking, Shot While Attempting Escape

DETAINING POWER
JAPAN

CAMP
PW Camp #1 – Cabanatuan 1-2-3 Nueva Province Luzon Philippines 15-121

Thank you for your time.

Dear Beth Boyer

I will do my best for you, but takes time and I will not give you any promises.

Best Wishes

I just publish : Back To Bataan – A Survivor's Story, (on Category : The World History)
though maybe not enaugh info for you but at least you will know what happend in the Death March of Bataan.
I am still working to get more info as you wish.
Best Regards,
Yappy

Yappy,

I would like to speak with you some time about my great Uncle who was in a very similiar situation as Mrs. Boyer uncle. PVT Arthur "Earl" Bates. Please contact me via email.

I look forward to hearing from you.

Thanks
MAJ Dwayne Page
U.S. Army

Dwayne,
I noticed your request for info on your great uncle. I may have found something for you. If interested email me at jerry_bash@yahoo.com

Hello to all, how is everything, I think every one is getting more
from this site, and your views are good for new users.